We, the Redemptorist family all over the world, celebrate yet another saintly man Blessed Kaspar Stanggassinger on the 26th of September. He was born on 12th January 1871, in Berchtesgaden, in southern Germany. He was the second of 16 children. His father was a farmer and owned a stone quarry.
From his childhood days, he had a growing desire to become a priest. As a child, Kaspar played at being a priest and "preached" short sermons to his brothers and sisters and used to lead them in procession to a chapel among the mountains near his home. In 1890 he entered the diocesan seminary of Munich and Freising but his studies and discernment moved him to choose the vocation as a Religious.
As a religious, he spent most of his time teaching the students and was available to the boys. On Sundays, he never failed to offer his help at the churches in the neighboring villages, especially by preaching. Even with such a schedule of work he was always patient and understanding with the needs of others, particularly the students who saw in him more a friend than a superior.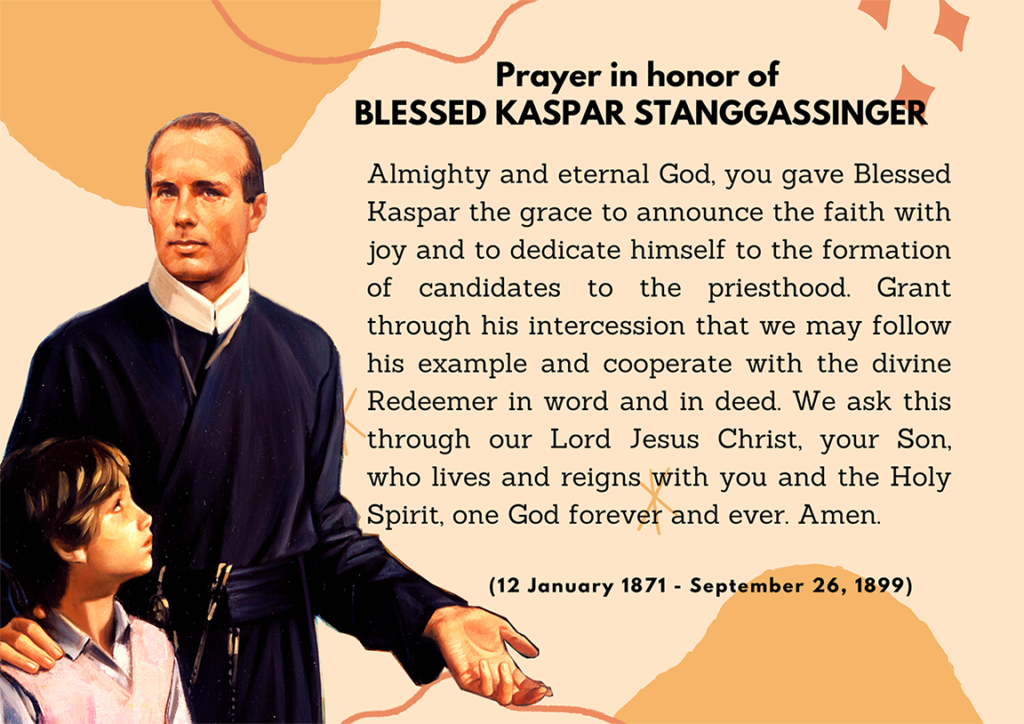 He had a great devotion to Jesus in the Eucharist, thus he invited the boys and the faithful to approach the Blessed Sacrament in times of need and anxiety. He encouraged them to go to Christ to spend time in adoration or to speak with Him as a friend. His preaching was a constant reminder to the faithful to take the Christian life seriously, growing in faith through prayer and continual conversion. His style was direct and appealing, without threats of punishment as was common in the preaching of that time.
He opened a new seminary in Gars in 1899 and stayed there as the director of the students. At a young age, he died due to peritonitis. On 24th April 1988, he was proclaimed 'Blessed' by the Holy Father, John Paul II.
Till today Blessed Kaspar has been a great inspiration to all the formators who continue to give their valuable time in different stages of formation. He is also our model and inspiration who continue in the youth ministry. May Blessed Kasper's life and example bring plentiful redemption to all especially the youth.
To stay updated follow us on…