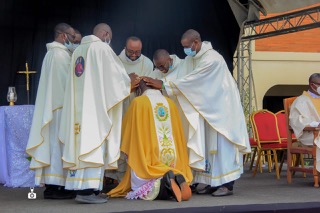 It was a beautiful and joyful day with lovely weather on Saturday, September 4th, 2021, at Redeemer House as jubilant crowds gathered to celebrate the ordination of eight of our Redemptorist confreres. It was indeed a day of joy for the Vice-Province of Nigeria and for the families of eight of our confreres who were ordained deacons and priests. Deacons Andrew Irabor, CSsR, Ejiro Henry Imonisa, CSsR, Onyia Patrick, CSsR, Onyeno Peter, CSsR Temitope Adu, CSsR and Ekezie Kingsley, CSsR were ordained to the priesthood. While brothers Sabinus Onuegbu, CSsR and Ekenze Lawrence, CSsR, were ordained to the Diaconate.
The mass, celebrated in the open fields of Redeemer house in keeping with Covid regulations, was attended by family and friends of the ordinands, classmates, priests and Religious Sisters as well as our lay collaborators from different parts of the country. Those who could not be there physically joined in via the Facebook page of the Vice-Province and the Zoom network also.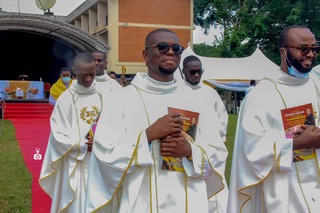 Archbishop Matthew Man-Oso Ndagoso, the Metropolitan Archbishop of Kaduna, with whom the Redemptorists in Nigeria have had a long time friendship, was the ordaining prelate. The occasion was a happy reunion between the bishop and several of the confreres who had worked in his diocese.
The bishop gave rousing words in appreciation of the missionary benefits that we have enjoyed as Nigerian. These missionary endeavours initiated by the church in different countries with particular emphasis on the sacrifices of Irish Catholics (clerics and lay alike), he said, cannot go unnoticed by the present generation of Nigerian Catholics. He called on the confreres being ordained to embody the same missionary generosity of heart. The prelate further stressed that it was time for the Church in Africa to give back to the world after receiving so much from the missionary generosity of our brothers and sisters in Europe and America. These words of exhortation were timely to the hearing of the ordinands who had been having seminars and workshops on the theme of "Solidarity in mission to a wounded world" and its translation into the reconfiguration process in the Congregation and in COREAM particularly.
Frs. Andrew, Ejiro, Onyia, Onyeno, and Temitope were posted to different apostolates within the Vice-Province, while Fr. Kingsley Ekezie was missioned to Thailand. Deacons Sabinus and Lawrence will continue their studies in Redeemer House while assisting at our parishes in Ibadan and Lagos when needed.
We pray for the best for these confreres as they begin their ministries.
Fr. Godwin Abbah, CSsR
To stay updated follow us on…