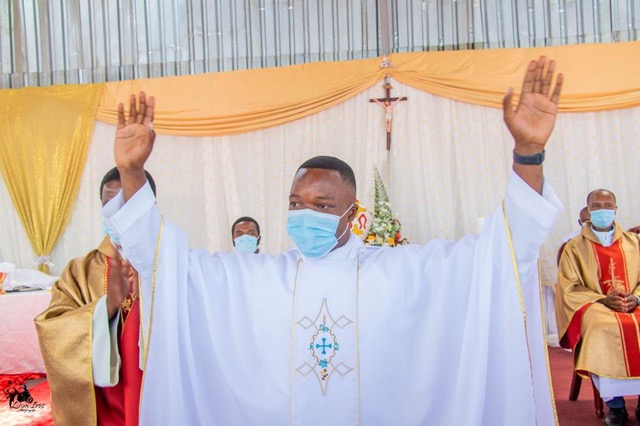 On Saturday the 12th of February 2022, the Redemptorist Region of Zimbabwe witnessed a delightful and jubilant event of the priestly ordination of Fr Adam Mukabva, C.Ss.R. The event was graced by the presence of multitudes of people who came from different places around the world, among which was noticeable the presence of his grace, Archbishop Robert Christopher Ndlovu of the Archdiocese of Harare, Fr Ngwenya secretary to the Bishop of Harare and Fr Chiromba, secretary to the Bishops in Zimbabwe as well as the family and relatives of the priest to be ordained.
The ordination took place in Eastview at St Clement centre, an outstation of St Alphonsus Parish in Tafara. All the people, the Redemptorists family, the relatives and family members, the faithful, as well as the priest to be ordained, had been waiting anxiously and looking forward to this big day, and as such, intensive preparations were made in order to make the big day a success.
Many people participated in making the venue hospitable and comfortable for the guests; the faithful, with the help of their priests, worked tirelessly and exhaustively to make sure that everything was in order. At St Alphonsus Community, the confreres worked diligently to see that the ordination came to a success. The brothers ran to and from different places picking up family members and relatives of the priest to be ordained, collecting donations, the catering team and everything necessary for the event.
The Mass commenced at 10:00 am, with the aforementioned Archbishop Robert Ndlovu as the main celebrant. The choir sang beautifully, and everything else went just smoothly as expected. The confreres were also given the honours to sing the Litany of Saints for their confrere on his ordination, and the singing was just marvellous, it was brilliant, they sang like angels.
We are looking forward to the thanksgiving Mass, which will be held at Mukabva homestead in Mutasa,
By Fr Albert Zindonda, C.Ss.R
(the photos submitted by Fr Mark Chikuni C.Ss.R.)
See the Original Article and the FB profile of the Redemptorist Region of Zimbabwe here:
To stay updated follow us on…