(South Africa) It was a  memorable day as Brother Peter Chitabanta, C.Ss.R.  made his Final Profession of Chastity, Poverty and Obedience, together with the vow and oath of Perseverance during the 10.30 mass on January 27th, 2019 in the Parish of St. Mary's, Retreat, Cape Town.
Br Peter was supported by a large congregation which included his Redemptorist confreres and four friends from his native Zambia, Bros Paschal Chola, David Busiku and Flavio Musonda (all Brothers of Charity).  Fr Gregory Vu Tung, a Redemptorist from Vietman  travelled with the Zambian Brothers from their base in Limpopo.  Also in attendance were members of the Little family from Retreat who have been long-time friends of Br Peter.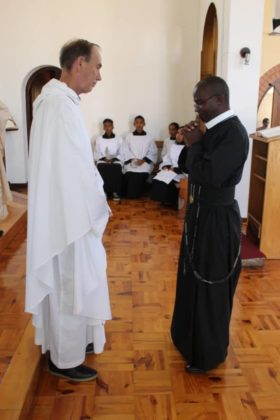 It was a day to remember also for the new Provincial of the Redemptorists in South Africa, Fr Gerard McCabe.  In his homily Fr Gerard drew attention to the Gospel text for the day (Luke 4: 16-21) which is also the text quoted in the very first paragraph of the Redemptorist Rule.  He also stressed the significance of the fourth vow proper to the Redemptorist : to persevere in the Congregation until death.  Appealing for more young men to consider their vocations, he thanked the parish of St Mary's for hosting the Final Profession celebration.
After Mass refreshments were served in the parish hall, courtesy of the Catholic Women's League.  Please pray for Br Peter as he continues his studies and prepares for the  next stage in his faith journey.
John Walles CSsR
Source: http://www.cssr.news/2019/03/final-profession-of-brother-peter-chitabanta-at-cape-town/